(Contributed by the Thomas Tolman Family Organization. The following excerpt is taken from Benjamin Hewitt Tolman: Brother, Pioneer, Husband, Father by Dawnine T Mills Johnson, First Edition, 2014, pages 1-1 to 1-21).
Birth, Family and Early Life
BENJAMIN HEWITT TOLMAN was born in Windsor, Kennebec County, Maine, May 3, 1829, a short 53 years after America won independence from Great Britain.
[Author's note: Per Cyrus' History, many histories were written showing his birthplace as Window, Waldo, Maine. It is important to note that Hope, Lincoln County, Maine, has been carefully documented by former Tolman family genealogist, LoaDon H. Glade, as his correct birthplace ("Cyrus Tolman" Loraine Tolman Pace, 2nd Edition, 2006). Many earlier histories of Judson Tolman give his birthplace incorrectly as August, Kennebec, Maine. Please note that Hope, Lincoln, Maine, has been documented as the correct location. ("Judson Tolman" E. Dennis Tolman, 2nd Edition, 2006)]
Benjamin was the seventh generation of Tolmans in America. His immigrant ancestor, Thomas Tolman, came from England in the 1630s and settled in Dorchester, Massachusetts. The family remained in Massachusetts for five generations and then Rueben Tolman, the paternal grandfather of Benjamin moved to Maine where Benjamin's father, Nathan, was born. In Maine, Benjamin and his ten brothers and sisters were born and reared for the early part of their lives.
Benjamin was the ninth child born to Nathan Tolman and Sarah Hewitt. He had four older brothers and four older sisters: Margaret (born February 2, 1812); Sarah (born March 13, 1814); Nathan Jr. (born October 8, 1815); Esther (born March 18, 1818); Cyrus (born April 6, 1820); John (born October 4, 1822); Lucy (born July 3, 1824); and Judson (born July 24, 1826). Following Benjamin's birth two more brothers were added: George Washington (born February 6, 1833), and Llewellyn (born in 1836). ["Cyrus Tolman" Loraine Tolman Pace, 2nd Edition 2006, Page 12-13]
From Cyrus' and Judson's histories we learn about time in Maine and the move to Iowa. Nathan Tolman chose to rear his family near the woods and the fishing in Maine. His boys learned hunting, fishing, and forestry. It was likely that the spirit of westward expansion motivated Nathan to move his family from Maine to Iowa in 1837. The move was the year after their eleventh child, James, was born. Benjamin would have been only 8 or 9 years old. We have no family history to fill in the details of their lives at this time except for the usual statistical data of births and christenings in either Maine or Iowa. We do know that Margaret died in Maine in 1825, Sarah married in 1833 and died in 1903 in Maine and Nathan Jr. married in 1835, so they obviously did not go to Iowa with their family. As far as we can tell the remaining 8 children, including Benjamin, moved to Iowa.
How long they remained in Iowa is uncertain; however, there are events in their lives we can pinpoint. Three members of the family died in Iowa: James L. in Portland, Van Buren, Iowa, December 24, 1842, at the age of 6; their father, Nathan, also died in Portland, Van Buren, Iowa, February 1, 1844, at the age of 56; and John died June 28, 1858 at the age of 36. Whether they remained in Iowa continuously during that time period is unknown to us. We do not have a record of John being married, but he could have been living on his own. ["Cyrus Tolman" Loraine Tolman Pace, 2nd Edition 2006, Page 13]
After Nathan's death in 1844, Sarah, Benjamin's mother, wanted to live with Cyrus and his new wife, Lydia Ann Kasbeer so she moved to Center Point, Linn, Iowa, which is three counties to the north of Van Buren County. Cyrus built a little cabin for her surrounded by a picket fence with an oak tree at one corner of his lot.
Benjamin and his brothers, Judson and George, were still teenagers and John was only 22. We can only speculate whether these brothers chose to move to Center Point, to remain with other married family members or to strike out on their own.
Since there seems to be no journal nor any other specific information, not much is known of Benjamin's 28 years of life. The following information has been pieced together from his brothers', Cyrus and Judson, written histories plus other information about the times.
The Church of Jesus Christ of Latter-day Saints
Four sons of the Nathan Tolman family joined the Church of Jesus Christ of Latter Day Saints. We know from references in the history of Judson Tolman by E. Dennis Tolman, that Judson and presumably his other family members first came in contact with the Mormons some time in 1844, the year of the martyrdom of the Prophet Joseph Smith.
According to Ann Lucretia Tolman McNeil's granddaughter either from an unknown diary or word of mouth Judson shared the following wonderful information in her "Life Sketch": "Judson Tolman, my grandfather, was the first of my ancestors to join the church. There was an elder by the name of Amous Davis who came to Judson's house and left a Book of Mormon and after reading it, Judson thought it was true and he joined the church." There is another story relating how a sister Angell told them about the wonderful Gospel. Whatever happened – and possibly both instances could have occurred – four brothers joined the Church. Judson was baptized January 12, 1845. George was baptized April 1845. Cyrus was baptized April 1846. Benjamin was baptized June 14, 1847. As far as we can tell where all four brothers were baptized is unknown.
George, age 12, did not leave with Judson and probably Benjamin (age 14) for Nauvoo in June of 1845 either because he wasn't ready to leave home or perhaps his mother, Sarah, wanted him to remain in the east until he was older. George died in 1849 in Iowa.
Benjamin's mother, Sarah Hewitt Tolman died in Kansas, March 19, 1869, at the age of 80. She likely went to Kansas to live with or be near her daughter, Ester Tolman Brice.
From "Judson Tolman" by E. Dennis Tolman, [2nd Edition, 2004], we learn that "Judson, Cyrus and Benjamin were never separated in their faith and seldom in geography for well over a decade." Judson did serve a mission back to Maine in 1877; however, no record was kept of his labors. So there is no information that he made contact with other members of his family living at the time in Maine.
Judson married Sarah Lucretia Holbrook in Nauvoo, Illinois on January 12, 1846. We don't really know where Benjamin was at this time, but we are pretty sure he lived with Judson and his family. Judson, Sarah and their family along with Sarah's father, Joseph Holbrook, and his family prepared to go west with the Saints. Judson was called to serve with the Hosea Stout Company in marking and preparing the route that the main bodies of Saints would follow across Iowa to Council Bluffs. He continued with the company to the Missouri River, helping to build all the bridges and make roads and raft wagons over all the streams that could not be forded. [LDS Biographical Encyclopedia] In his own words, Judson indicated that he served as a "guard" in the company. [Tolman and Tolman, A Brief History of the Life of Judson Tolman, Page 27]
From the Journal of Joseph Holbrook, we learn that Judson was reunited with this young bride on June 2, 1846, at Eddyville, Iowa, on the Des Moines River, where she had traveled in the company of her father's family since leaving Nauvoo [Journal of Joseph Holbrook, page 37], Benjamin would have been only 17 at this time and was probably a big help to Sarah and her father while Judson was gone.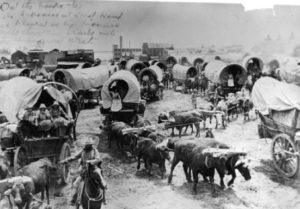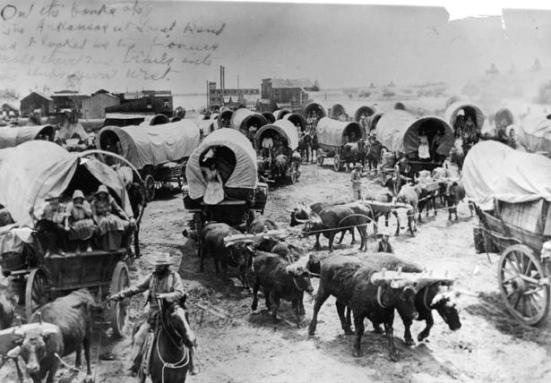 Trek Westward
Because of Joseph Holbrook's health, he asked Benjamin, being a strong, able-bodied, clean living young man, to drive one of his wagons across the journey west.
The organized emigration from the Missouri River to Great Salt Lake in 1848 was divided into three divisions under the charge of the First Presidency of the Church. The First Division was in the charge of President Brigham Young, the Second Division in the charge of President Heber C. Kimball, and the Third Division in the charge of President Willard Richards. On July 8, 1846 both Judson Tolman's and Joseph Holbrook's families joined Brigham Young's company. Brigham Young's division, of which Cyrus, Judson and Benjamin were members, consisted of 1,229 souls. They had with them 397 wagons, 74 horses, 19 mules, 1,275 oxen, 699 cows, 184 loose cattle, 411 sheep, 141 pigs 605 chickens, 37 cats, 82 dogs, 3 goats, 8 doves, 10 geese, 2 hives of bees, and one crow.
A few days after July 8, a request came from the United States Government to Brigham Young that he supply five hundred volunteers to separate themselves from the main body of saints and to march and fight for their country in the War with Mexico. The departure of the Mormon Battalion undoubtedly increased the hardships to be borne by now "abandoned" or "under-manned" families. The remaining men with Judson and Joseph Holbrook among them were forced to redouble their efforts. Charles R. Mabey, quoting from Judson's own words, indicated the following:
We were then organized into a company of 200 wagons under the leadership of George Miller and eleven other men, and started for the Mountains, but were stopped by Brigham Young, and wintered on the Puncah [Ponca] river, near the Missouri river, about 150 miles above the present Omaha. We then went to Winter Quarters in the spring, whence we continued the journey to the Valley, where we arrived in September 1848, in Brigham Young's company and in Daniel Garn's Fifty. [Mabey, Charles R., Our Father's House, P. 125]
Some experiences from the History of Joseph Holbrook, 1806-1865, written by his own hand. (pages 59-61):
After we had crossed the river there being no empty houses to be obtained, brother Anson Call and I concluded to go out about two miles to the Puncas [sic] camp where my brother Chandlier Holbrook lived as there were a plenty of empty houses at that place with a number of other families that had lived there for the past year.
We found comfortable cabins for our families, as we did not expect to move forward on our journey west for a number of weeks. I still continued to be afflicted every day with my chills and fever which kept me very low. On the second night as our cattle were on the public yard the Indians took down the fence and drove off seven head of cattle belonging to me. Judson Tolman went in pursuit and soon found that it was Indians by their moccasin tracks. He returned when my brother Chandlier Holbrook and John Dalton armed themselves with Judson; they pursued them about ten miles when they came upon some of the Indians who had drove two of my best oxen into the mire, had butchered one and killed another. They also found where they had divided the cattle and took them in different directions so that they could not be so easily overtaken but they killed three of my best oxen and two cows. Two of the oxen having got away and came home the next day. We were counseled as a camp to remove to Winter Quarters to the main camp. I had not half team enough to draw one wagon as the largest yoke of oxen were killed and the near ox out of the next best 'yoke. We now remained in Winter Quarters having our cattle well guarded by night and day. About one week after this three Indians came into the herd in the daytime and took one of brother Anson Call's oxen in sight of the guard and the guard of ten men on horseback pursued them for ten miles. The Indians had butchered the ox, crossed a small mysa [sic] stream called the Passoo where the guard could not follow them any farther, so they were forced to return without the ox. My five head were taken at the puncas camp was the only one that had ever been taken for one year and brother Call's the only one that had been taken at Winter Quarters this spring among the thousands of head of cattle that was continually being herded every day.
I bought another yoke of oxen, turned out one cow, took some few hundred flour from my provisions, a little money but they were not near as large as those the Indians had killed. Along about June we made a move west over the Horn River where when the company of Brigham Young came up, were organized into his company. Daniel Carnes captain of fifty, Anson Call captain of the ten I belonged to. I continued to be afflicted with chills and being unable to sit up much of my time. I employed Benjamin Tolman to drive one of my teams, a brother of Judson Tolman while Judson drove the other. Our team which now consisted of some unbroken steers and cows made it very difficult for eight or ten days to get along but as our load had been growing lighter by our living and trading our flour to for our oxen we managed to keep up with the camp.
Benjamin would have been 18 around this time. Since not married, he was probably not counted as an adult, but he probably worked just as hard as one.
From Bancroft's History of Utah:
"The rendezvous for western-bound brethren in the spring of 1848 was the Elkhorn River, and thither at the end of May came the President, who organized the people and gave them instructions to be observed on the way. Good order was to be preserved in camp; there must be no shouting; prayers were to be attended to, and lights put out at 9 o'clock. Drivers of teams must walk beside their oxen and not leave them without permission. Brigham Young was general superintendent of the emigrating companies, with Daniel H. Wells as aide-de-camp, H. S. Eldredge Marshall, and Hosea Stout captain of the night guard. Moving west in early June, on the 14th the emigrants were fired on by the Indians, two being wounded. At this time there was also sickness in the camp. To secure grass and water, the emigration was separated into divisions, of which there were two principal ones, under Brigham Young and H. C. Kimball, with several sub-divisions.
In June and July two small parties left Great Salt Lake City to meet the immigration, and another in August. In September Brigham Young and the first companies arrived; and under the organization of the president and his two counselors, Willard Richards and Heber C. Kimball, during the autumn months most of the brethren from Winter Quarters and other camps reached the Valley." [Heart Throbs of the West –They Came in '48]
Per quotes again from Joseph Holbrook's journals:
"There were about 200 wagons in this company until we passed Fort Laramie when the company separated into fifties for the better convenience of traveling among the Black Hills on the Boise River. One of my twin cows died which I had worked on the lead from Winter Quarters. I was now forced to hire another cow from Benjamin Tolman to which she soon broke in it being our off cow that died. My health had so improved that I could walk a part of the time."
Entering the Salt Lake Valley
Again from Joseph Holbrook's journals:
"At the head of Echo Canyon we stopped for a few days and went about six miles to the south and picked service berries. I got about six bushels which we dried for our fruit. As we were in advance of the main company we staid [sic] on the Weber River until Brother Brigham's company came up. We came into the valley about the 20th day of September 1848 and camped northwest of the old fort where we staid [sic] camp for a few days. I then obtained permission to go north about ten miles on the River Jordan to cut hay. I commenced cutting hay about the 1st day of October. Judson staid [sic] at the adobe yard to make adobies [sic] for a house, 18 inches long, 9 inches wide and four inches thick, west of the old fort."
Having arrived in Salt Lake City late in September, there was no time for the members of this company to plant crops in 1848, nor was there time to build "proper" dwellings. Alice Leon Paterson Wilkinson, a granddaughter of Judson and Zibiah Jane Stoker, describes that first winter:
"Judson Tolman's first home here was a little dugout in the Ninth Ward. A great many hardships had to be borne that winter on account of the scarcity of crops. They were obliged to live for six weeks on nothing but wild onions and milk. The next year, the crops were very successful. From one peck of seed received from the pioneers, he raised twenty-five bushels of potatoes. About the first of July the first barley was ripe and they ground it and made bread, the first they had had for a long time." [Reprinted from Tolman and Tolman, A Brief History of the Life of Judson Tolman, p. 28 (because a copy of the History in question has not been located.)]
It is assumed that Benjamin stayed with Judson and his family throughout the next couple of years and helped Judson, Joseph Holbrook and probably Cyrus because we find Benjamin's name mentioned various time along with either of his brothers.
In the Daughters of the Utah Pioneers Museum in Salt Lake City there is a pioneer map showing the distribution of farm lots in the Plat A portion of the Big Field Survey of Great Salt Lake City. The lots were to be five acres each, 46 rods by 17.4 rods (a rod is 5-1/2 yard). The map explanation gives the following: "Under date of Wednesday, September 28, 1948, after the return of Brigham Young from Winter Quarters, a meeting of pioneers was held and it was mutually agreed that under the Big Field Survey each person would be entitled to as many lots in that area as he could farm successfully the following year (1849) and that the location of their respective lots would be determined by drawing." Judson was assigned a lot on the northeast corner of 3rd East and 13th South, next to his father-in-law's brother, Chandler Holbrook. Joseph Holbrook was assigned two lots on the west side of 2nd West between 17th and 21st South. [Map on file at the Daughters of the Utah Pioneers Museum, Salt Lake City, Utah. Camp compiled and copyrighted by Nicholas G. Morgan.]
Per Joseph Holbrook's journal:
"I was unable to cut hay all the time as my health was not yet very good but I continued to cut and put in the cock [sic] about forty tons before snow came when we hauled it. We built a wickiup, an Indian name for shantie, where we wintered our stock. Our cows gave more milk so that we made some butter which we could exchange for grain which helped us much. We also built a shantie in Salt Lake City upon our town lot in the ninth ward where Judson & wife lived. Hannah, my wife, kept school for my children and brother Call's on the River Jordan. We were about four miles from the nearest house. At brother Session's settlement the Indians were somewhat troublesome a begging for bread and sometimes would threaten my family when I was not present so that I was forced to abandon our camp in the latter part of winter.
"January 18, 1849, I commenced cutting wood in Mill Creek Canyon for coal. The snow was about six feet keep in the canyon. Judson and his brothers Cyrus and Benjamin and Jefferson Wright are helping us. We are glad to get some shorts for bread or even wheat bran and not half enough to keep off hunger. We also cut some 250 saw logs and about 1000 poles, 100 cords of wood coal the first thousand from which we made 3000 bushels of coal, the first thousand bushels we hauled to Salt Lake City for 12½ cents and 15 cents per bushel. The second thousand for 20 cents per bushel, the third for 25 cents. We had some thirty or forty acres of land in the big field south of the city which we fenced for we broke up and put in 6 acres of winter rye and wheat which proved a failor [sic]. We also put in 8 acres of spring wheat but the grasshoppers made great inroads upon it, at one time nearly destroying it but by continually watching it by day and watering by night we harvested 100 bushels which was about half a crop. We also broke and put in some ten acres of corn but it also was a poor crop. We also put in 7 acres of buckwheat then came a whirlwind after it was cut and set up which destroyed more than one half of the crop. We threshed about 35 bushels. We had some 70 bushels of turnips which were very good. We planted one peck of potatoes which I paid $3.75 per peck or at the rate of $15.00 per bushel. I planted them on my city lot in the 9th ward and raised 25 bushels, which was the best crop I raised this season. I paid my tithing in the fall but I do not know how much.
"I broke up land in the spring of 1849 which took 6 and 7 yoke of oxen to pull the plough, it being the low willow land for one and one-fourth (one bushel and one peck) bushels of corn per acre and I could not plough over three fourths of an acre per day.
"In the fall month of October [1849], I settled with Judson Tolman my son-inlaw who had been with me from Nauvoo until now, his wife living in the family and we doing our work together as one man. He had a good new two-horse wagon and harness, two good yoke of oxen, two cows and bread stuff enough for one year together with about two hundred dollars in cash which gave him a good start in the valley for a young man to begin with. As brother Brigham gave council for the brethren to look out good farms I [Joseph Holbrook] went to Tooele valley before there was any settlement there but not suiting myself I went north into Davis County Sessions Settlement."
[Author's Note: The above entry in Joseph Holbrook's journal is significant because it represents the formal separation of the households—Judson and Sarah, for the first time in their married lives, estab-lishing their own home and separating their family from the patriarchal presence of the Holbrooks.]
Settling in Tooele Valley, Utah
The Indian version for the naming of Tooele "is that the county took its name from an Indian chief named Tuilla, who lived in the valley years before the advent of the Mormons. Captain Ferguson, an Indian born in 1865, and well educated as well as having served in the U.S. Army, said he had lived among the Indians of Tooele county many times, and heard the story repeated many times. Elizabeth R. Nelson, born in Tooele in 1853, also verifies this version, by asserting that as a girl in 1867, she heard her father, John Rowberry, tell of an Indian Chief, Tuilla, for whom the valley was named. This version is also probable inasmuch as Howard Stansbury's (government surveyor) map of this region in 1849 and 1850, denotes the valley as 'Tuilla" and the settlement itself as 'Tooele.'" [History of Tooele County, p. 22]
Andrew Jenson, writing of the early days in the Salt Lake Valley for the Deseret News, said, "Tooele Valley was named after the tule (pronounced tooly), a Mexican Indian name for a variety of bullrush abundant in that locality. It was misspelled "Tooele" by Thomas Bullock, the pioneer clerk, in a public document of that period and the orthography as since remained unchanged. [Ibid., p. 22]
Indians, wolves and rattlesnakes were plentiful in the Tooele Valley and added to the hardships and terror of the pioneer children. Tooele County is divided into three valleys: Tooele Valley, Rush Valley and Skull Valley. Early pioneers visited Tooele Valley from time to time, and as early as 1847 and 1848 the settlers of Great Salt Lake Valley used these three valleys as a herd ground for their cattle. At this early time the valleys were accredited as a splendid grazing country.
In early September, 1849, Brigham Young sent the first families to the Tooele Valley, some twenty miles southwest of Salt Lake City. Judson Tolman, his wife, Sarah Lucretia, and their 19-month-old daughter Nancy, responded to that assignment along with Josiah Call, his wife and infant child, and Samuel Mecham and his wife. Traveling together, the three families explored the valley, the surrounding canyons and the mountains and decided to settle on a small stream south of the current city of Tooele. [Mercer, Mildred Allred, ed., History of Tooele County, Salt Lake City, Publishers' Press, 1961, p. 19.]
Part of the land was marshy so the men drained it and prepared it for planting. They worked hard during September and left for October Conference to report to Brigham Young. Judson attended this Conference in Salt Lake City less than one month after arriving in Tooele. While there at the conference, Judson reportedly asked Brigham Young to send additional settlers to the Tooele area. As a result of that request, Judson's two brothers, Cyrus, with his wife and two children, and Benjamin Hewitt, as yet unmarried, arrived in Tooele in November 1849.
Per the Daughters of the Utah Pioneers Marker #1 in "Tooele Pioneer Park" located on 520 South, just 1/2 block west of Main Street in Settlers Park, this marks the site of the Tooele early settlers' first camp. Benjamin (Ben) was with his brothers in the establishment of Tooele:
"In honor of the early settlers of Tooele County who mae their first camp on this ground September 2, 1849. John Rowberry, wife and five children; Josiah Call, wife and one child; Cyrus Tolman, wife and two children; Judson Tolman, his wife and one child; Orson Bravett, his wife and five children; Captain Wright, wife and one boy; F. X. Lougy; Samuel Mecham, Robert Skelton, and Ben Tolman."
They endured a difficult winter before spring arrived and they could begin to grow crops.[From "Utah In Her Western Setting" by Milton R. Hunter, Ph.D., Revised Eighth Printing, 1856. page 356]
Per the History of Tooele County, p. 40:
The fourth valley in Utah to receive white settlers was Tooele. In October 1849, Ezra T. Benson, employed two brothers, Cyrus and Judson Tolman, [as well as Benjamin Tolman, who was probably living with one of the brothers] and Phineas Wright, a millwright, to go into Tooele Valley for the purpose of building a mill. Shortly thereafter Frances X. Lougy, Samuel Mecham and others followed. These pioneer-settlers of Tooele located near the mouth of Settlement Creek Canyon about a mile southwest of the present site of Tooele City. They built several cabins joined together on the east side of the creek. Before winter set in they were joined by John Rowberry, his wife and five children, and Robert Skelton and others. About a dozen families had arrived to found the city of Tooele.
"The entire country was covered with thick growing grass, and inasmuch as there was enough water to properly farm the land, livestock would do well. However, the early settlers were not so much interested in the raising of cattle and sheep as they were in farming, because the problem of the raising food seemed to be the paramount thing at the time. Each family had its cows, probably one or two, according to the size of the family…. Each family kept its own herd about the small farm during the summer months, but as they had not learned the art of storing food for the winter months, they were compelled to turn out on the ranges the animals which were not being used for milking. A good many of these cattle perished during the winter, due to lack of food and shelter. The stock kept at home were fed by the branches of mahogany trees which the men brought down from the canyons."
The first winter in Tooele was a hard one for the settlers; snow fell early and often. One of the snowstorms swept over the valley for 48 hours, and drifted the snow as high as the tall willows that grew along the creek. Two feet of snow had to be shoveled out of some of the cabins before they could start a fire. The poor cattle died and the stronger teams suffered. They sought shelter from the storms along the willow drifts, and there they were found frozen stiff. [Ibid., p. 34]
James Dun wrote the following account of the settlers' first Christmas in Tooele:
When the children of Tooele awoke on Christmas morning in 1849, not a doll or a toy was in all the land. Not even a stick of candy or an apple was found in any of the cabins. But the children and their parents were happy for all that; for they were glad they still had a little eat, and prospects before them in their new homes were beginning to grow brighter every day. But if there were no dolls or toys for the children, the fathers and mothers did not forget Christmas, and before the day was over they had a real jolly good time.
In the evening they all met at the cabin of John Rowberry—that was the house they held all their meetings in—and there they had a good old-fashioned dance to wind up the day with. It was the merriest crowd that ever met in a Christmas gathering for they were all young men and women, and as full of fun and frolic as it was possible for young married people to be. Some of them were very good dancers, and a few were good singers, and they could get up an interesting party whenever they took the notion for amusement.
Now let us see what [sic] was at their first Christmas party that was held in this city: John Rowberry, wife and five children, Cyrus Tolman, wife and two children; Judson Tolman, wife and one child; Josiah [sic] Call, wife and one children; Captain [Phineas] Wright, wife and one boy; Samuel Mecham and wife; Mr. Bravett, wife and five children; Benjamin Tolman and Robert Skelton.
So you see there were enough parents and children to fill John Rowberry's house for a good Christmas shake down. But the great drawback was music. Not a musical instrument of any kind was owned in the valley but Josiah Call* was a very good whistler and he whistled the tunes while the merry pioneers danced to the music. We cannot tell you who called the numbers that even it was probably [sic] Call himself who both whistled and called, as he is reported to have been a very genius in that line. But the dancers had a good time until just before midnight, when the dance broke up, and that was the end of the first Christmas party that was held in this city or county."
*There are various accounts of the first Christmas held at Bishop Rowberry's. Some pioneer accounts record that Josiah Call was a good whistler and whistled tunes while the pioneers danced, and other accounts found among the Daughters of the Utah Pioneers, state that Cyrus Tolman was a gifted whistler and provided the music for the dances. (See also accounts in History of Tooele County and "Tooele, Utah, Stake history, 1847-1900.)
These early settlers made a favorable report to Brigham Young of the Tooele area; therefore, he sent an exploring party into the canyon for shingle timber. The explorers returned to Brigham Young with a discouraging report. Shortly thereafter Cyrus (Benjamin's brother) was in Salt Lake and talked to President Young, who told him of the report of the explorers. Cyrus laughed at the story and said there was both saw and shingle timber in the canyons, and right there, a bargain was made to have a load of this kind of timber delivered to Salt Lake City. A few days later Cyrus fulfilled the contract to the satisfaction of President Young. [History of Tooele County, p. 20]
As a result of fulfilling the timber contract with Brigham Young, Judson [probably as well as Cyrus and Benjamin], along with Ezra T. Benson and Anson and Josiah Call built the first saw mill in the Tooele Area. On November 24, 1849, authorization to build the sawmill was given along with the rights to harvest timber. The sawmill was located on Big Canyon Creek. The timber rights included Big Canyon, Pine Creek Canyon, and Small Creek Canyon. In return for this 'license' to harvest and process timber, they agreed to build a road into the canyon and to furnish lumber at a price of $20 per thousand board feet. [Journal History of the Church, Salt Lake City, LDS Church Historical Department, 24 November 1849.] Pine and spruce were favored as construction lumber, while the cedar was preferred for shake shingles.
From this mill in Tooele, the lumber was furnished for one of the first school houses built in Davis County, which was built at 400 North and 200 West in Bountiful. [Foy, Leslie T., The City Bountiful, Bountiful, Utah, Horizon Publishers, 1975.] For this construction, they hauled lumber from Tooele to Bountiful, which, even as early as 1851, held some special attraction for them—probably because of the settling there of Judge Joseph Holbrook, Anson Call and other members of the 1848 pioneer companies with whom they had traveled and toiled.
Benjamin probably worked alongside of and lived with Judson while he was single. This would make sense as to why Judson in later years would take Benjamin's son, Benjamin Hewitt Tolman II, under his wing and included him as family. Judson and his family lived in the Tooele Valley until they moved to Bountiful, Davis County in the fall of 1854.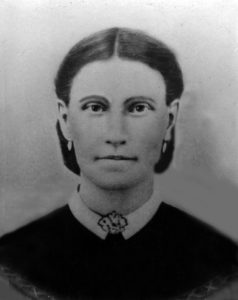 Benjamin Married Sarah Jane Angell
We will probably never know how they met but we do know Benjamin won the love of a choice daughter of God—Sarah Jane Angell, the oldest daughter of Truman O. Angell and Polly Johnson. They were married January 2, 1851 in Salt Lake City.
[Author's speculation on ways Benjamin could have met Sarah Jane Angell]
#1 Way – Casual Meeting – The entire Angell family including Sarah were also in the Brigham Young Company arriving in Salt Lake in 1848 along with the Joseph Holbrook family and the three Tolman brothers and their families.
#2 Way – Related Family on Trek West – Joseph Holbrook's mother was Hannah Lucretia Morton. Her sister, Phoebe Morton, was the mother of Truman O. Angell, making Joseph and Truman 1st cousins. Also, Joseph and Truman's sister, Mary Ann Angell (Brigham Young's wife), were 1st cousins. Mary Ann Angell was responsible for Joseph receiving the Book of Mormon. They had been in contact with each other over the years because in Joseph Holbrook's journal (Page 9-10) he mentions about earlier talks he and Mary Ann had had about religion. Judson Tolman married Sarah Lucretia Holbrook who was Joseph Holbrook's daughter. So, showing the relationship between Joseph Holbrook and Truman O. Angell, it is possible that Benjamin working for Joseph would have met Sarah Jane, Joseph's cousin. Or it is possible that Benjamin while with his brother, Judson, would have met Sarah Jane who was Sarah Lucretia Holbrook's 2nd cousin.
#3 Way – Related Family on Trek West – Joseph Holbrook, for whom Benjamin was taking care of one of his wagons, served an earlier mission. Truman O. Angell, Sarah Jane's father, was his mission companion. Plus per the following, we find out that Joseph Holbrook and Truman O. Angell were first cousins. So they knew each other quite well and their family could have spent time together.
#4 Way – Related Family on Trek West – On this trek west, Sarah was only 13 years old and her sister, Mariah, was 6. Their mother, Polly Ann Johnson, was sick and rode the whole trip in bed. Sarah Jane's 61-year-old grandmother, Phoebe [sometimes spelled Phebe], was also with them. Who took care of the family? Who fixed meals, and cleaned up? That's a lot of responsibility for only two girls (13 year old and 6 year old). What about family: Truman's mother, Phoebe Morton, had a sister and her name was Hannah Lucretia Morton. She married Moses Holbrook, and her first son was Joseph Holbrook (whose daughter, Sarah Lucretia, married Judson Tolman). Truman's sister, Mary Ann Angell, had married Brigham Young. Truman had his wife's family on this wagon train. The family that we know of consisted of Brigham Young's wife and Joseph Holbrook and his family, which included his son-in-law's family, including 16-year-old Benjamin Hewitt Tolman.
It seems to be quite reasonable that Sarah Jane Angell and Benjamin Hewitt Tolman might have had several opportunities to meet on the way west.
Per the 1850 census, Benjamin was in Salt Lake City. Sarah's name is listed under his on the census. They are listed after Truman O Angell, Sarah Jane's father, and before Sarah Jane's grandmother, Phoebe, on the census list. Benjamin was listed as a farmer. Maybe Benjamin was working for Mr. Angell. We have probably no way of knowing.
However, we don't know where they lived from when they were married January 2, 1851 to spring of 1851 when they left for Davis Fort, Box Elder.
Settling of Davis Fort/Brigham City, Box Elder County, Utah
Per Leonard J. Arrington in "Utah History Encyclopedia", "The establishment of settlements in Utah took place in four stages. The first stage, from 1847 to 1857, marked the founding of the north-south line of settlements along the Wasatch Front and Wasatch Plateau to the south, from Cache Valley on the Idaho border to Utah's Dixie on the Arizona border. In addition to the settlement of the Salt Lake and Weber valleys in 1847 and 1848, colonies were founded in Utah, Tooele, and Sanpete valleys in 1849; in Box Elder, Pahvant, Juab, and Parowan valleys in 1851; and in Cache Valley in 1856. Settlements in all of these 'valleys,' as early settlers called them, multiplied with additional immigration throughout the 1850s."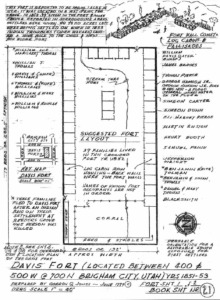 In Recognition Bicentennial of Our United States of America (1776-1976), Veara S. Fife and Chloe N. Petersen put together a "Directory To Commemorate the Settling of Brigham City, Early Brigham City, Box Elder, Utah Residents, 1850—The Davis Ford—1852, 1852—Box Elder Fort-Box Elder Ward—1854, and 1854—Brigham City, Box Elder, Utah Territory—1877". The following information is from this Directory:
In the fall of 1850 three men came to what is now Brigham City, Box Elder, Utah. At that early date it was part of Weber County. The three men followed the stream through the canyon to the east, finding a sizeable stream of clear, flowing water with many trees and shrubs along it's [sic] banks. There were cottonwood, willow, but most numerous were the Box Elder trees which prompted William Davis to name the canyon Box Elder Canyon, and the stream, Box Elder Creek. With Davis were James Brook(s) and Thomas Pierce, forming a scouting party to locate a suitable area for their future home. Through the canyon they found many different shrubs with edible fruit or berries; wild currant, elder berries, choke cherries, service and huckle berries, all of which would be welcomed as food supplement for their families.
They followed the stream as it wended its way west and north out of the canyon and around the natural alluvial fan. When they reached what is now about 7th North and 4th West of our present [1976] city, the soil seemed especially rich and loamy. Here also were inviting springs of water which could be diverted through what might serve as a shelter while they put their minds to deciding where a townsite [sic] might be located. The place they chose to be their shelter was just north of the newly named Box Elder Creek and to the west was a grove of trees, cottonwood, willow and underbrush, all of which could furnish logs along with those from the canyon for erecting shelters. The willows and vegetation were used as roofs.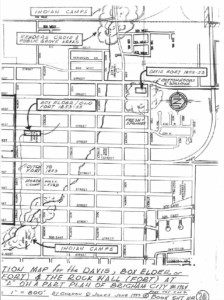 There were other interesting items in this area, which they took into consideration. There were deer in the mountains and sage hens, prairie chicken, grouse, and quail. To the west across the salt flats was a bird haven where geese and ducks could be found. Is it any wonder there were about 500 Shoshone Indians roaming this immediate territory.
The three men noted all of these things before leaving for their homes and families in Salt Lake City, where they spent the winter making preparations for an early move. They reported their scouting to President Brigham Young and of course told others. The L.D.S. Church chronology states that William Davis, James Brooks, and Thomas Pierce arrived in Box Elder the 11th of March 1851. Martin Ensign, George F. Hamson and Simeon Carter, early settlers say these three men came to Box Elder in the fall of 1849 to locate land and water for home building. Davis family tradition bears out this statement.
Their families went to this previously selected place where they immediately began to erect shelters. A row of log rooms adjoining each other formed a walled camp or fort. The cabins were low with sloping roofs, covered with willows, rushes and sod, which of course leaking after a heavy rain when all became soaked with water. In as much as everything was temporary, most everything stayed in the packing boxes with the bedding rolled up to keep dry and clean as possible. The small windows were covered with cotton cloth, oiled or greased and stretched across the opening. The openings all faced in toward the center of the fort. The Davis Fort named after the leader of the group, Williams Davis, eventually covered an acre of ground with an added addition.
The women, always alert for anything that could make their shelters more comfortable, soon found cattails in the marshes near by which were gathered, then by twisting their head and letting the fluff fall into ticks they soon had enough for their bed ticks and made sleeping a little more comfortable.
It wasn't long after their arrival, in March, that the long hill, just above and east of the natural alluvial fan, which is now Brigham City's Reservoir Hill, was covered with the most beautiful white blossoms, wish the Indians called the Sego Lilly [sic] – "The life plant of the hills." Everyone soon learned the beautiful legend. They soon learned too and for many years after the food value of the Sego Lilly [sic] bulb. They learned many ways to prepare it and agreed with the Indians and were grateful for this life saving bulb. In the fall the canyon was a bee-hive [sic] of activity as the women and children searched the hills picking the dried berries for winter. Of course this was much like gleaning as the fruit had to be picked just at its peak of ripeness, to make jellies and jams. The native currant can still be found along the property fence lines as reminders of an earlier and more severe time. [1976] There is still a sturdy determined plant in the crouch of a tree on the Tabernacle grounds where as much as a quart has been picked and preserved.
Soon after the first three men started making shelters they were joined by other settlers who had answered President Brigham Young's call for settlers, but also cautioned to keep together in places of safety until peace with the Indians could be made. Pioneers after their long hard journey were most grateful for this beautiful setting, a chance to work and till the soil whereby a living could be made. These hardy pioneers were not looking for riches, just a chance to live quietly. The rich soil was their challenge. Simeon Carter with others ploughed [sic] the first furrow rows in Box Elder. The summer of 1851 George Hamsom erected a little house on a 5 acre claim a little to the west, a short distance from the Davis fort. George Hamson Jr. was born 8 December 1851, the first male white child to be born in Box Elder. The 6th of October William Davis had the first log house completed. The second log houses to be completed were Jefferson Wright's and Benjamin Tolman's.
The grove near the Davis fort was later called the "Reeder's Grove." Here for many years the settlers enjoyed gathering as a church group for picnics, outings, family gatherings, and outdoor activities of various kinds.
Per Benjamin's son's, Benjamin Hewitt Tolman II, journal he kept later in life. He makes a note on the entry for Thu June 22, 1905: "I learned from Bro Geo. Harding today that my father came to what is now Brigham City, or Box Elder as it was first called, in the year 1952. I think he had been here first to see the country a year or so previous. At any rate he must have brought his family or wife in the spring of 1851 or 1852 and I was born the following spring in a house he must have built the previous summer." This move was at the request of President Brigham Young. They lived in the old Davis Fort. They were among the first settlers there. [Author's Note: President Brigham Young was Sarah Jane Angell Tolman's uncle which might have had influence on their being called to this community.]
Benjamin and Sarah took out their own endowments on December 20, 1851 in the Endowment House. They must have come from Brigham City/Box Elder to Salt Lake City for at least this purpose.
In the 1851—List of families Living in the Davis Fort—1852, it shows:
Tolman, Benjamin Hewitt I
wife Sarah Jane Angell
In a later list it shows:
Tolman, Benjamin Hewitt I
1852-53-54 Cabin #5 addition
wife Sarah Jane Angell
son Benjamin Hewitt II born 1853 Brigham
In the directory of 1852—The Box Elder Fort—1854, Later was referred to as the "Old Fort", page 8:
By July 1852 the Davis Fort was becoming too crowded, so a second fort was by necessity decided upon. More and more people with families were coming to join the small original group, planning to make this their home. The Box Elder Fort was built and occupied in the year 1852. It was situated between 2nd and 4th North running twenty-five rods, between 1st and 2nd West about 8 rods. The cabins were together forming a wall of logs, which were roomier, larger with a higher ceiling than the shelters in the Davis Fort. This enclosure of log cabins had an entrance at the southwest corner and an exit at the northeast corner. The two openings were well guarded. Lewis N. Booth was chosen as guard and Harvey N. Pierce as Captain. The connected log houses formed a protective barrier. The site of the fort was out in the open, the ground around being covered with bunch grass, here and there a clump of grease wood and sage brush.
While the fort was being erected a group of men were busy channeling a stream of water from the Box Elder Creek to the Box Elder Fort, which they ran through the center of the fort…. There was soon an addition to the Box Elder Fort and a log school house was built in the fall of 1853, just south of the addition. All were anxious to get out of the fort and on to their land to start planting crops…. At the October Conference in Great Salt Lake, Box Elder Fort reported 206 souls. From the time of the first families, many families had come to Box Elder look around, stayed a short while, and then moved to other areas more to their liking.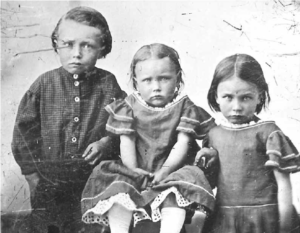 Benjamin and Sarah's Family
During all this time, Benjamin and Sarah Jane started their family—all three of their children were born in Brigham City, Box Elder, Utah. Their son, Benjamin Hewitt Tolman II, was born March 15, 1853. Next was their daughter, Polly Jane Tolman who was born January 19, 1855. She was followed by another daughter, Emma Mariah Tolman, who was born November 10, 1856.
Per www.boxeldercounty.org, the following is a brief history of Brigham City of the time Benjamin, Sarah Jane and their family lived there:
1852- 1853 – Settlers began to move out of the fort onto their surveyed farms. Pres. Brigham Young directed the settlers to move again into the fort because of danger from Indians. A second fort was built about three blocks north and two blocks west of the present courthouse. Log homes built close together enclosed the fort on three sides.
1853 – In the fall, Lorenzo Snow was called with fifty families to come and strengthen the settlements at Box Elder. The families came, a few at a time. 1854 – In the spring and fall, families came. By December of 1854, there were 60 more families in Box Elder.
1855 -The townsite was surveyed by Jesse Fox. The survey commenced at the site of the mill which was underway at the northeast corners of the city plat. Settlers left log homes in the fort and built on the city lots. During the summer and fall, log cabins were erected.The first one was built by Thomas Mathias. John D. Reese built the first adobe house on the city plat. Grasshoppers destroyed crops in many parts of Utah. The winter of 1855/56 was especially hard.
1856 – Box Elder separated from Weber County, by the Fifth session of the Legislative Assembly of the Territory of Utah. Boundaries of Box Elder County were defined, and "Brigham City" was designated as the county seat. Jonathan C. Wright was elected by the Legislature to be the Probate Judge of the County.
1856 – Winter was an extremely hard one. Bread was scarce and 75 percent of the beef cattle starved to death which provided plenty of meat.
Death of Benjamin Hewitt Tolman
Benjamin Hewitt Tolman died December 14, 1857, apparently from complications of a stomach ulcer. Some histories show he died in Tremonton, but his family group sheet shows Brigham City. Benjamin died leaving his wife and three small children, the oldest being only 4 years old. Benjamin was probably buried in the Brigham City Cemetery. At this writing the exact spot is not known. Many of his ancestors have researched and have been unable to locate exact spot.
[Author's Note: In 2010 my husband, Kent Johnson, and I, Dawnine Mills Johnson, took a trip to the Brigham City Cemetery. We found the graves of Sarah Jane Angell Tolman Johnson and the twins. Next to her grave is a seemly empty plot. After talking with the sexton, that spot is probably a grave but there is no record of who is buried there. Per family stories, Sarah Jane desired to be buried next to Benjamin.]
Benjamin lived an honest, God-fearing righteous life. His brother, Judson, apparently spoke at the funeral service and is quoted as having declared that that "Benjamin was too good to live longer in his mortal world." ["A Brief History of the Life of Benjamin Hewitt Tolman,' published in the Thomas Tolman Family Magazine, Vol 1, First Quarter, 1965, pages 3-34.] Because of his early death, we know only some of his life's accomplishments mostly where his life connected with his two brothers—Cyrus and Judson, and his wife, Sarah Jane Angell.
[Author's Note: The following is a tribute to Benjamin Hewitt Tolman written by Dawn Tolman Mills, a great granddaughter, written in 2009.]
"At age 17 Benjamin was considered a man. Raised on the wild frontier, I think of Benjamin Hewitt Tolman as being strong and good looking with curly light brown hair, brown eyes, and a happy disposition and engaging smile. Judson watched over him and helped to train him for life. He must have bonded early with Judson. As time went on and later on after leaving their parents, Judson became a much-adored father figure to young Benjamin who was so very young when his father died in 1844. Judson became the father he never knew. Benjamin learned early to sustain his life through the efforts of his own. He was taught on a wild frontier to work hard, to fish and to hunt. Much beloved by adoring elder brothers and sisters, he was being fitted for an eventful long life. But fate had a hand in his future for his life was snuffed out at the early age of 28. He then went on to a better world for kingly duties. Someday we will all know him as a beloved patriarch of a great posterity and we will call him our Great Grandfather."
Family Temple Sealings
Benjamin Hewitt Tolman was sealed via proxy to his parents April 24, 1894 in the Salt Lake Temple.
See the story in Sarah Jane Angell Tolman's narrative of how she and Benjamin were sealed to each other on March 9, 1861 in the Endowment House.
The following is the account of the Benjamin and Sarah Jane's children's sealing to their parents from Benjamin Hewitt Tolman II's Journal #4:
The forepart of July [1886] I went [to Salt Lake City] and built a granary for Allen Hunsaker. About the middle of the month my sister, Polly came up for a visit and we intended to go to the temple and have some work done for us and our father and mother. About the 20th Uncle Samuel and Aunt Mariah Woolley came to see us, and also to stand as proxy for father and mother while we, the children are sealed to them. On the 24th July we had a pleasant celebration. In the evening we had a hard rain for an hour or two.
Thurs 29 My sisters Emma and Polly and I went to Logan to have the work done before mentioned. We found that no one can stand as proxy in having children adopted unless they be born heirs to the covenant or sealed by the authority of the priesthood. Therefore we had to get a stranger to attend or stand in place of father. Friday We obtained a name from the temple and was endowed for some of the dead. I went through and was endowed for one William Croft. My sister was endowed for someone by the name of Huntington I think. I felt to shed tears of gratitude that I was worthy and when the sealing was pronounced I received a powerful testimony that Bro. Merrill was speaking by the authority and power of the Holy Ghost and what he sealed on earth was sealed in heaven and I could hardly felt better had my own father and mother been present which, however, seemed to be case, but not visible to the natural eye. Bro. Lyman Wight Potter stood proxy for father and Aunt Mariah for Mother. While this was going on we did not have the slightest presentment of the sad news that had arrived about the time the sealing was done. Word was brought to us as we going out of the temple that my sister, Emma's 5 year old boy was run over and crushed by the [railroad] cars and the sad news had to be broke to her, but there never was a time in our life that we could have been better prepared to stand such a trial.
(Contributed by the Thomas Tolman Family Organization. Excerpt taken from Benjamin Hewitt Tolman: Brother, Pioneer, Husband, Father by Dawnine T Mills Johnson, First Edition, 2014, pages 1-1 to 1-21).