News Release: 12 February 2017
Contributed by Derek Tolman, Allyson Schmid, and Ben Baker
RootsTech is the largest family history conference in the world. Some refer to this four-day experience as the Disneyland of family history. At times, this year's conference certainly resembled Disneyland at peak season drawing record-breaking crowds. Registered participants reached nearly 14,000 individuals from 40 countries and several thousand more who attended the Family Discovery Day on Saturday. Over the four days 100,000 additional participants joined many of the sessions via the internet. If you missed the conference, the Thomas Tolman Family Organization website has a link to view the keynote sessions and many of the sessions and handouts of the 2016 and 2017 conferences. The "attractions" at the conference included inspiring keynote speakers each morning, over 200 breakout sessions on every imaginable family history topic, exhibitors featuring the latest in family history tools and technologies, and wholesome family entertainment.
The opening social event was entitled "Music-It Runs in the Family" and featured the music of Rodgers and Hammerstein. The program was emceed by Oscar "Andy" Hammerstein III who told the stories behind the music of Rodgers and Hammerstein. The featured artists were Dallyn Vail Bayles and the Mormon Tabernacle Choir and Orchestra at Temple Square. The program also featured members of the choir who shared their family legacy of music. One of those choir members was my wife, Carolyn Hammond Tolman who currently sings in the choir with her sister. Both of Carolyn's parents and her uncle also sang in the choir. This family tradition of music stems back to Hopkin and Margaret Mathews who were among the first saints to join the Church of Jesus Christ of Latter-day Saints in Wales.  Hopkin, Margaret and their children served a mission in Wales. "Hopkin often taught people on the street and Margaret would aid him by singing songs of the truths of the Gospel. Often she would be carrying one child and her other youngsters would be holding on to their mother's skirts. Margaret was often blessed with the gift of singing in tongues. She once sang a song in the language familiar to the people of India. A man in the congregation expressed his gratitude with tears streaming down his face. He said it was a song he had not heard since he was a child at his mother's knee in India. This man was baptized 21 July 1847 by Elder Dan Jones, thus becoming the first Hindu convert to the Church." (Hopkin Mathews Family-From South Wales to Utah by Handcart in 1856, page 6.)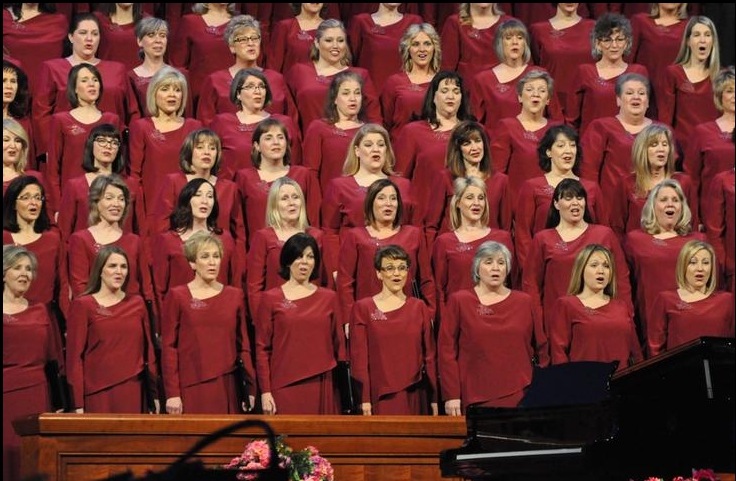 Carolyn is pictured on the third row, fourth from the left next to her sister, Melinda Hammond Baros. (Courtesy of Deseret News)
Allyson Schmid, 3rd Vice President (Cyrus line), attended the conference and reported, "I was blessed with the opportunity to attend RootsTech this week. One of the themes that stuck out to me in the classes I attended was how important it is to record our stories. History is full of amazing stories of amazing people who did amazing things. But it's the stories of average people like you and me that make up the backbone of history. We all have stories to tell. It doesn't have to be hard or take a lot of time to tell your story. You just have to start. The words you write today can impact generations of your posterity."
Allyson continues, "If I had to choose one valuable thing I learned at RootsTech about telling my story, it would be the creation of a timeline. I plan on starting mine today. The teacher encouraged us to get a spiral notebook and at the top of the first page write the year you were born. Then turn the page and write the next year. And so on and so on, until you reach the current year. She said on each page write anything you can remember that happened in that year. This is an ongoing project that you can add to when something sparks your memory. In another notebook write a short story about each event as they come to you. Pretty soon, you will have an invaluable collection of stories that can be treasured for generations. I love this idea because it takes this grand overwhelming task of writing your life history and breaks it up into very manageable tasks that anyone can do."
Ben Baker, 1st Vice President (Judson line), also attended RootsTech 2017. Ben works at FamilySearch so this was an excellent professional development opportunity.  Ben shares his impressions of the conference, "The first thing I thought of that is relevant to the family is how powerful a thing a name is. I thought of LeVar Burton's keynote address and his moving portrayal of Kunta Kinte in the television series Roots. I think being a Tolman is pretty neat and I'm so proud to be part of this wonderful family." Ben continues, "The other impression I had reaffirmed at the conference was the amazing growth of family history work throughout the world. It is truly remarkable to witness the growth of temple submissions, photos and stories, DNA, family communication, record digitization and so much more."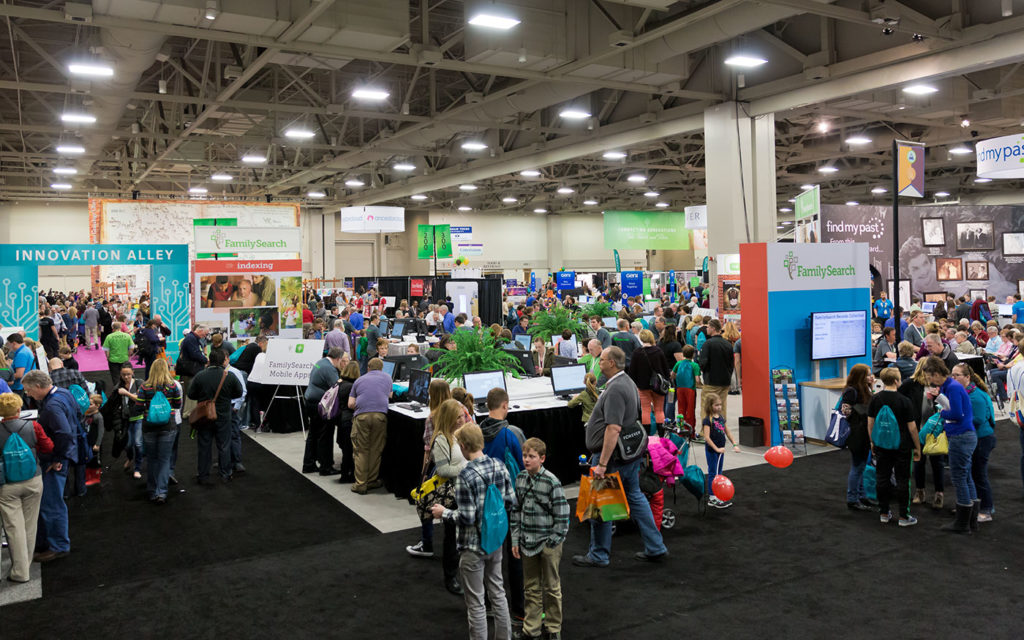 (Courtesy of rootstech.org/rootstech-2017)
Areas of interest to the Thomas Tolman Family Organization from RootsTech 2017 include the following:
Technology improvements. FamilySearch continues to increase the number of partnerships with companies and organizations which provides access to more records worldwide and tools to help us find our ancestors and preserve our own family history. FamilySearch and its partners along with other companies use RootsTech to announce improvements to their programs and applications to improve support to the Family History Community.
TTFO Family Tree. Over the next two to three years, we will be moving the TTFO Family Tree to a web-based tree so everyone can view (not edit) the TTFO Family Tree. In the short term, we will make the TFO Family Tree available in FamilySearch and on the TTFO website so others can immediately benefit from our research and hopefully avoid duplicating efforts.
TTFO Indexing Group. Many of the presentations at RootsTech addressed the new FamilySearch web-based indexing program. The old program will be phased out during 2017. The new web-based program is still in the beta-test phase, but we expect the TTFO Indexing Group will be in full swing by this spring using the new program. The biggest advantage of the web-based program is it will allow individuals to be members of multiple indexing groups without having to create separate FamilySearch accounts.
LDS Ancestral Families Association (LDSAFA). Recently, the TTFO joined LDSAFA and during the conference I had the opportunity to meet with some of the LDSAFA Executive Board members. They were well aware of the TTFO and our efforts to preserve and share all the records previously housed in the Thomas Tolman Family Genealogical Center in Bountiful. LDSAFA will be holding a meeting in March and we look forward to providing an update about how our organization will interact with and support LDSAFA.
In the Family Discovery Day keynote address, President Russell M. Nelson and his wife, Sister Wendy Watson Nelson offered fitting challenges. Sister Nelson said, "My dear brothers and sisters I entreat you to make a sacrifice of time to the Lord by increasing the time you spend doing temple and family history work and then, watch what happens." President Nelson added, "I invite you prayerfully to consider what kind of sacrifice, and preferably a sacrifice of time, you can make to do more family history and temple work this year." The Thomas Tolman Family Organization invites all our cousins to visit the TTFO website and commit some time to one of the get-involved activities and then "watch what happens" and enjoy the ride.