Contributed By: MarWebre · 5 February 2014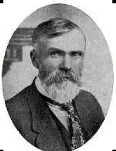 Claudius Tolman's father died when Claudius was 13 years old. When Claudius was in his late teens, his friends were planning to get dates and take them to Salt Lake and stay overnight. They invited Claudius to go with them, and he was thinking about going until one night his father appeared to him. His father just put his hand on his shoulder and said, "Claudy." That was all. Claudy didn't go on the date. He remembered who his father was, and who he was, and he didn't go.
Some of his friends ended up making life-changing bad decisions. But Claudy didn't, thanks to his father's gentle, watchful care from the other side of the veil.
Visit FamilySearch to learn more about ClaudiusTolman. Visit the Thomas Tolman Family Organization to find out how you can get more involved in family history.